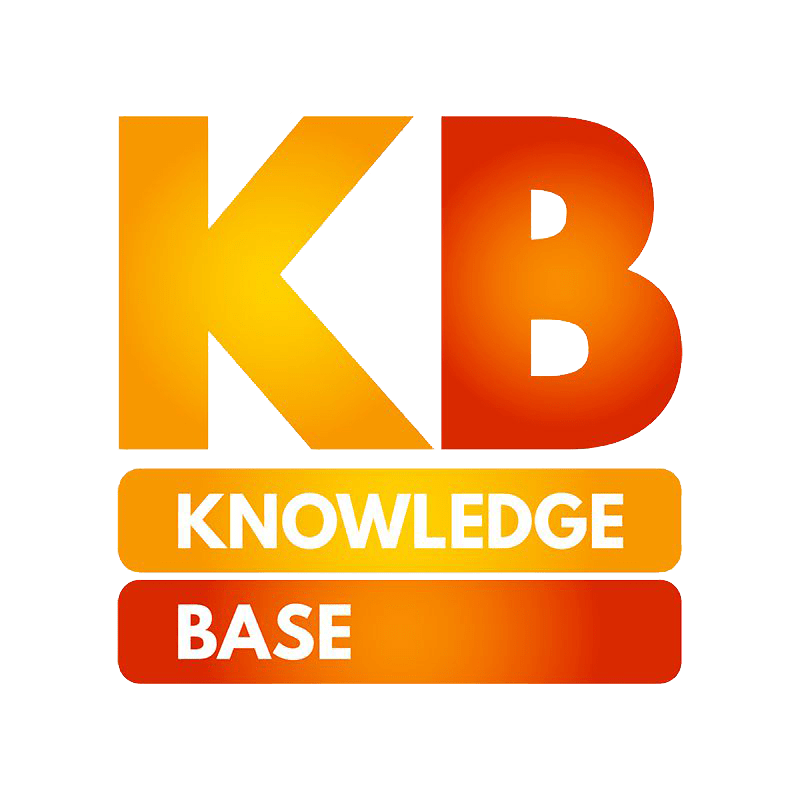 The 4 Types of Garage Doors
How to Choose the Right Garage Door for You
Buying a new garage door is supposed to be an exciting process. However, with so many options to choose from, it can soon become very overwhelming.
For every garage door, you have to choose from a list of colours, styles, materials AND a method of opening
All the choice often takes the excitement away.
In this guide, we cut out all the industry jargon and help you decide which garage door is right for you. We'll breakdown: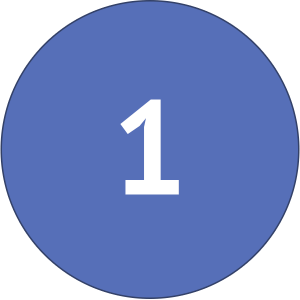 The 4 Types of Garage Doors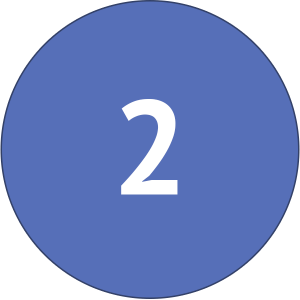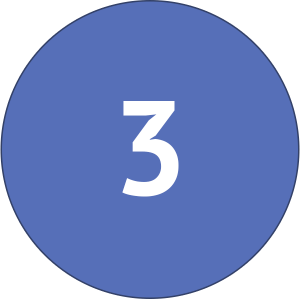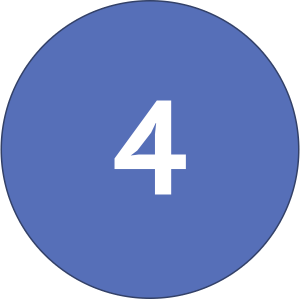 Which Garage Door You Should Choose
What are the Different Garage Door Types?

There are four types of garage doors that you will find in the UK:
Up-and-Over
Side-Hinged
Roller garage doors
Sectional
1. Up-And-Over Garage Doors
Up-and-over garage doors are the staple of British garage door designs. Up and overs are reliabilie, high quality, and come in a massive range of designs & styles.
As the name suggests, to open them up, you turn the handle and pull the door up-and-over towards the garage ceiling.
Up-and-over doors come as a canopy gearing or retractable. Whereas a canopy door runs vertically on its track within the frame, a retractable door opens on horizontal tracks which go back into the garage.
Double Up & Over Garage Door in 'Black'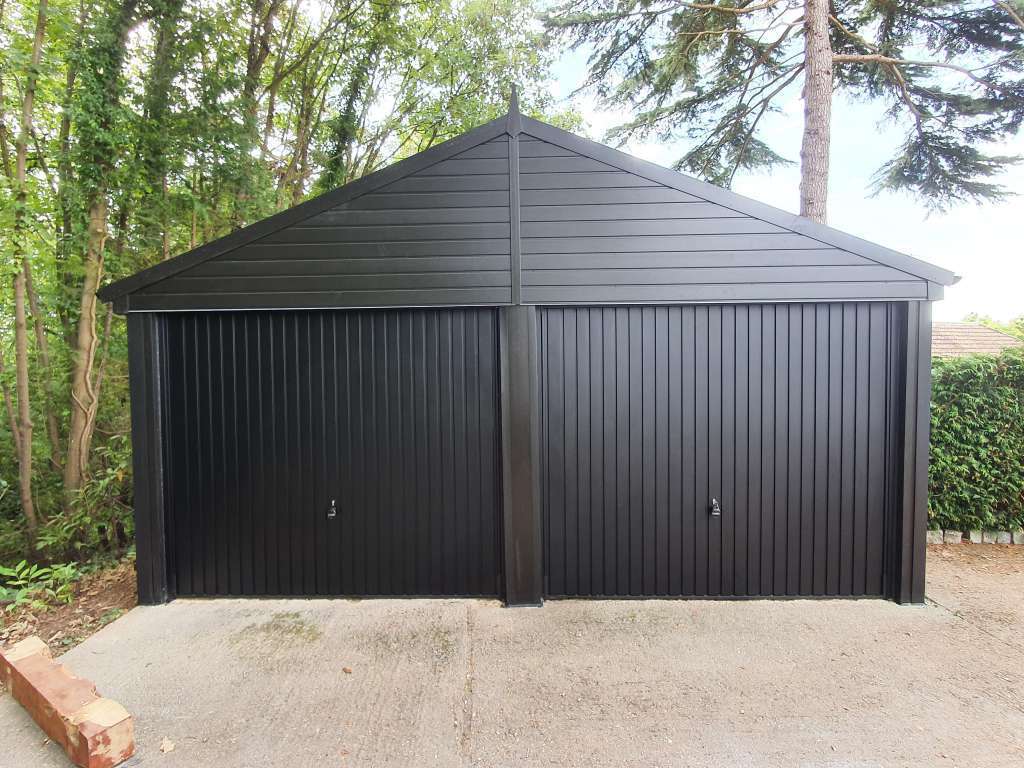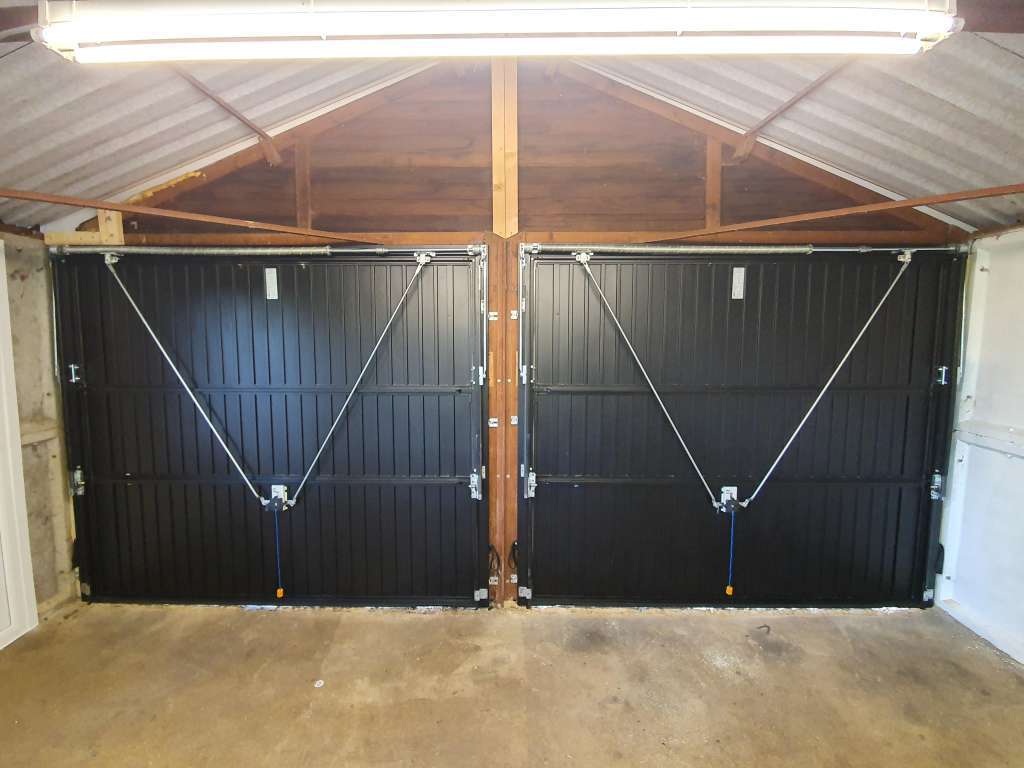 2. Side-Hinged Garage Doors
Side-hinged garage doors, instead of lifting up and above your head, operate on a hinge, opening outwards onto the driveway.
This helps to provide clear and unrestricted space inside of the garage, making access into and out of the garage quick & easy. Perfect for those who are always in and out of the garage.
For example, if you use the garage to hold household appliances, a side hinged door means you can get in and out all day without the hassle of a heavy garage door.
Side hinged garage door designs are also suited for those looking for a traditional style for their garage. They are available as a 50/50 or 70/30 split opening.
Vertical Side Hinged Garage Door in 'White'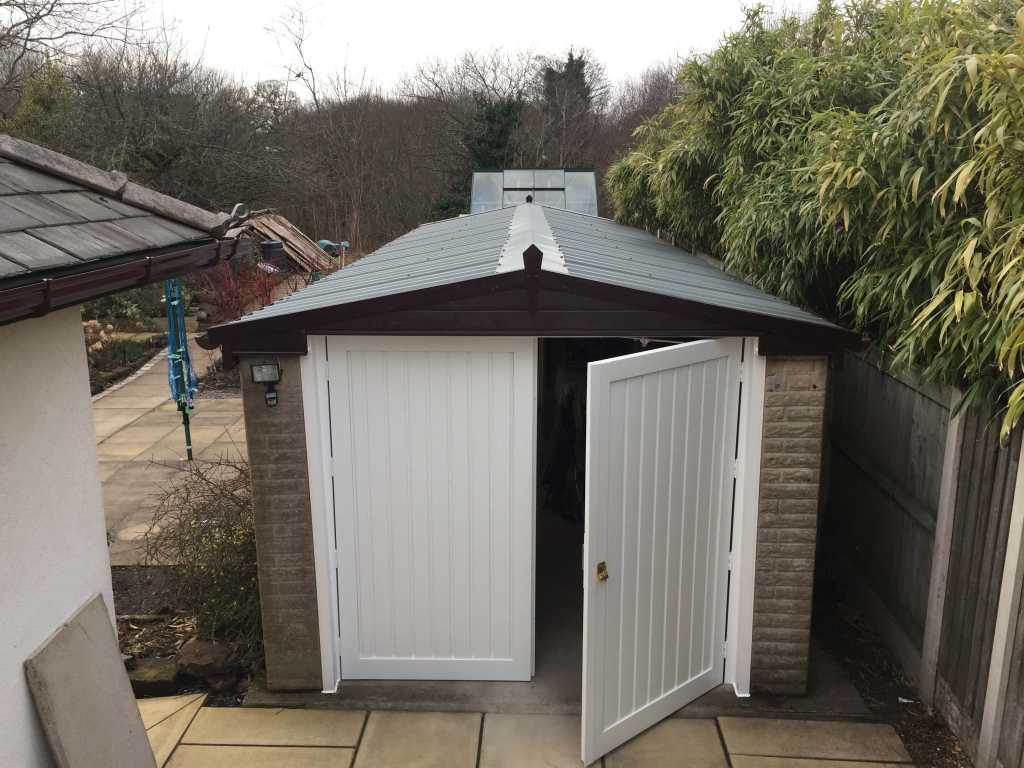 Roller Garage Door in 'Light Grey'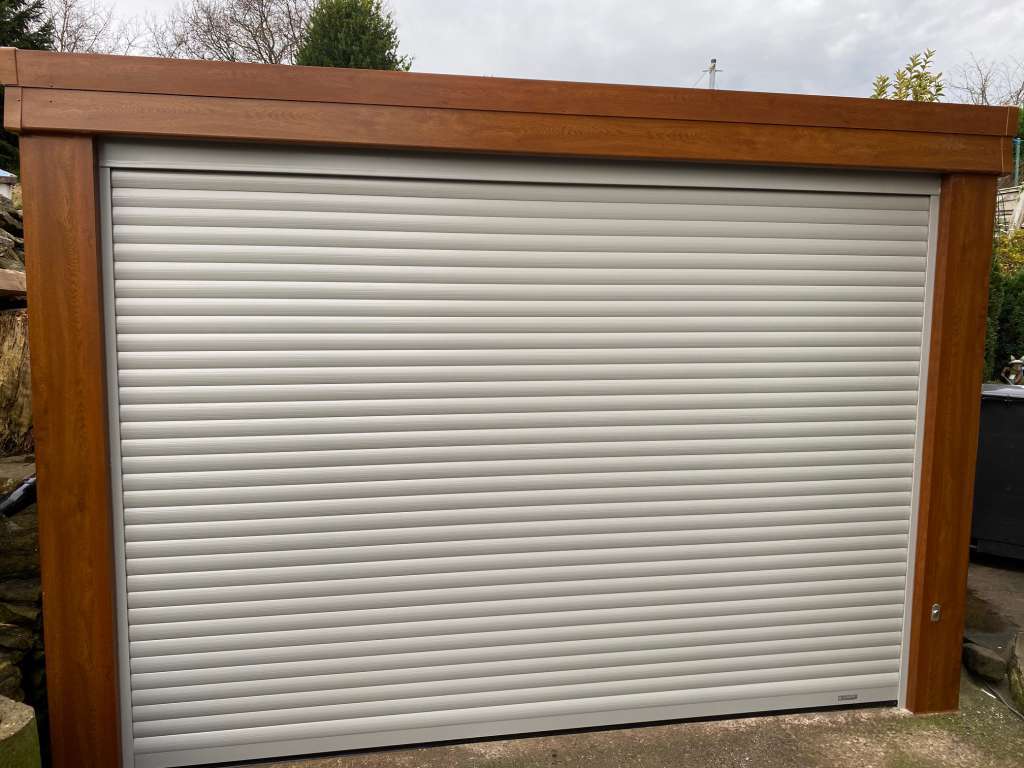 3. Roller Garage Doors
We all strive for convenience, something to make our day-to-day lives that bit easier. And it's no different with a new garage door.
People are now looking to a garage door replacement that automates the opening for them, and the rise in popularity over recent years has been astronomical.
Made of aluminium, roller garage doors lift vertically and roll into a box above the head of the garage opening.
They come available with a manual or automatic operator. With an automatic, you will receive a set of remoates that open the door at the push of a button.
As well as automation, roller garage doors provided added security. This makes them ideal for homeowners who use their garage to protect valuables like cars or motorbikes.
You can also install extra products to warn you of unauthorised entry.
If you are looking for security, go for a roller.
4. Sectional Garage Doors
Another option for an automated garage door is a sectional garage door.
These boast all the benefits of a roller with the appearance of a more common up-and-over door.
Sectional garage doors rise within the opening and hinges itself along the ceiling. This allows the full width and height of the opening to remain clear.
Ideal for homeowners who use their garage to park their cars.
Much like a roller garage door, sectionals come packed with a range of options. These include security features, automation, insulation and more.
Garage Door Materials
Garage door materials must be three things: secure, durable and an efficient weight.
In today's industry, garage doors are usually made of one of 5 materials:
Steel
Timber
GRP
Aluminium
ABS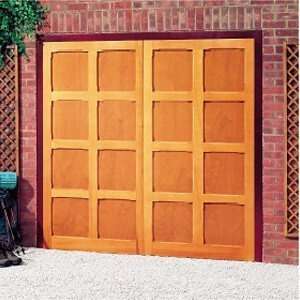 Timber Side Hinged Garage Door
1. Steel
Steel is the most common type of garage door material you will find in the UK. Steel is perfect for a garage door as it is high strength yet low cost.
Steel is also a good material for pressing a range of designs and application of coatings. It is by far the most popular garage door type thanks to how many options you can choose from.
Up-and-overs, side-hinged, sectional and rollers all offer steel options.
3. GRP
Glass-reinforced polyester (GRP) has the best strength-weight ratio of all garage door materials. It is the best at retaining warm temperatures inside of the garage. On top of that, GRP also prevents rot and rust.
Of course, this comes at a cost, literally. Although the manufacturing cost of GRP has come down in recent years, it still is most often the most expensive garage door material.
Up-and-over, side-hinged, and sectional garage doors often come with GRP options.
2. Timber
If you want a garage door that is unique, go for timber. Timber doors are a one of a kind. When re-produced, each door has its own personal graining, knots and shading.
Modern timber-sourced garage doors offer surprisingly long-lasting periods of protection. So long as you wipe down door panels often, timber does not need as much maintenance as people think.
You can even repair timber when its panels are damaged. You can buy up & over, side-hinged & sectional doors in timber.
4. Aluminium
You will most likely only find an aluminium garage door if you purchased a roller garage door.
Aluminium roller doors consist of foam-filled laths which provide a powerful level of insulation that other materials cannot.
The most common reason for aluminium over steel or GRP in manufacturing rollers is that the laths can easily be repaired or replaced and are quieter during operation.
5. ABS
ABS doors are made from a tough yet flexible material often used to make car bumpers. The selling point of ABS is to be impact and dent resistant with a 'bounce-back' property.
When knocked, the door panels flexes to asborb the blow and then bounces back into its original state. Ideal for withstanding everyday family life.
Both Up & Over doors and Side Hinged doors can be made in ABS.
Which Garage Door is Right for You?
Choosing the right garage door comes down to your personal circumstances. For example, how do you use your garage? What do you want your garage to look like? What is your budget?
For many of us, our garage is nothing more than a storage place for gardening equipment, DIY tools and other items. For others, it may be a utility room for appliances like your fridge or washing machine.
You may store your car in your garage, use it as a workshop – the use cases are endless.
Depending on how you use your garage, you may want high security over ease-of-access. On the other hand, you may value affordability rather than an all-singing-and-dancing door.
We recommend tallying up how you will be using your garage and how your garage door fits around that.
Do you want it to open as you get home in the car?
Do you want a quick opening so you can easily nip in-and-out?
Do you not use the door much and prefer a lower cost door?
Think about the answers to these questions and how each type of garage door suits you.
Danmarque supply & install garage doors across the entire UK. If you are in the market for a new garage door and need some more advice, please do not hesitate to get in touch with our experts.
Get in Touch
0800 1337318
info@danmarque.co.uk
Opening Times
9:00am – 5:30pm Monday to Friday