Asbestos Garage Roofs
Do you have an Asbestos garage roof? Here you can find useful information about the type of Asbestos used in your garage roof, its dangers and advice on when to get your garage roof replaced.
Specialist Teams
All of our operatives are trained and equipped to safely handle Asbestos Material
Fully Licensed
We comply fully within the guidelines and regulations for the control and transportation of Asbestos
Certified Disposal
We work closely with Biffa Waste Management to ensure that all Asbestos waste is disposed of at authorised landfill sites
When Should You Replace Your Asbestos Garage Roof?
Asbestos Garage Roofs Pose The Greatest Risk When They Are Damaged.
You should consider replacing your Asbestos garage roof when your Asbestos panels have begun to deteriorate or show signs of damage such as splits or cracks.

Living With A Damaged Asbestos Garage Roof
Understand The Risk
When damaged Asbestos garage roofs can release dangerous fibres into the air, try to avoid disturbing your garage roof wherever possible. Face masks can be purchased from your local hardware superstore.
The Vacuum Effect
Opening your garage door or personal access door too fast can create a rapid change in air pressure within your garage which creates a vacuum effect circulating Asbestos fibres into the air. Where possible wait for the air to settle before entering your garage.
Take Care When Moving Contents
Concrete garages rely on the garage roof to provide rigidity therefore any vibrations in the garage structure will disturb the Asbestos roof panels, avoid banging contents around or leaning heavy contents against the garage walls.
When To Avoid Using Your Garage
You should refrain from using your garage during bad weather such as high winds or storms, as with the vacuum effect the circulation of Asbestos fibres will be increased during these periods.
How Dangerous is an Asbestos Garage Roof?
Asbestos in any form poses a health risk however, the type of Asbestos used in domestic garage roofing has a lower risk potential than its counterparts and if your garage roof is undamaged, then this risk is negligible.
What is Asbestos?
Asbestos is the name given to a group of naturally occurring silicate minerals which have been mined worldwide on an industrial scale since the late 19th Century and used in thousands of applications across the construction industry.
What are the different types of Asbestos?
There are Three common types of Asbestos found in construction, each have there own characteristics and pose various levels of risk.
Chrysotile (White), Serpentine
Amosite (Brown), Amphibole
Crocidolite (Blue), Amphibole
These three Asbestos types fall into two different categories of Asbestos known as Serpentine and Amphibole. The difference between the two categories is the type of fibres they release, Serpentine Asbestos releases curly fibres which when inhaled due to their shape rarely penetrate lung tissue and therefore pose a much lower health risk in comparison to Amphibole fibres. Amphibole Asbestos types release needle shaped fibres which burrow into the lung tissue easily meaning that even the briefest exposure can have serious consequences.
Why was Asbestos Used in Construction?
The UK government banned the use of Asbestos in all forms in 1999. One of the primary reasons it took so long to ban the use of Asbestos was the lack of an adequate substitute building material.  Asbestos when applied in construction is a very light material which is incredibly strong with superior resistances to all weather conditions, high and low temperatures, fire and chemicals and If this wasn't enough the minerals could be easily spun/molded and formed into various shapes and formats for different applications at a very low cost.
What type of Asbestos does your garage roof contain?
An Asbestos garage roof contains around 15% Chrysotile (White Asbestos), Unlike Amosite (Brown Asbestos) and Crocidolite (Blue Asbestos) which both release needle shaped fibres (Amphibole), Chrysotile fibres are curly shaped (Serpentine) making them less likely to penetrate the lung tissue. Although the associated risks are significantly lower than its counterparts the risk Chrysotile poses should not be dismissed.
What can I do about my Asbestos garage roof?
Once an Asbestos garage roof panel has failed unfortunately you don't have many options, if the damage is minor you can purchase a specialist paint to provide a temporary barrier but this has a very short life span and doesn't provide a long term solution.
Having Your Asbestos Garage Roof Replaced
Damaged or not, having an Asbestos garage roof places restrictions on the functionality of your garage. The associated health risks prevent using your garage as a usable space such as a workshop or gym but the real damage is from the release of Asbestos fibres which can contaminate the contents of your garage preventing the storage of sentimental and financially valuable items. Although harder surface items can be cleaned, penetration of soft materials and fabrics can leave items dangerous and unusable.
Our operatives are trained and certified to work with Asbestos and our company is fully licensed to transport and dispose of Asbestos material. As the homeowner it is your responsibility to ensure that any company you hire disposes of the Asbestos waste safely and within the regulations.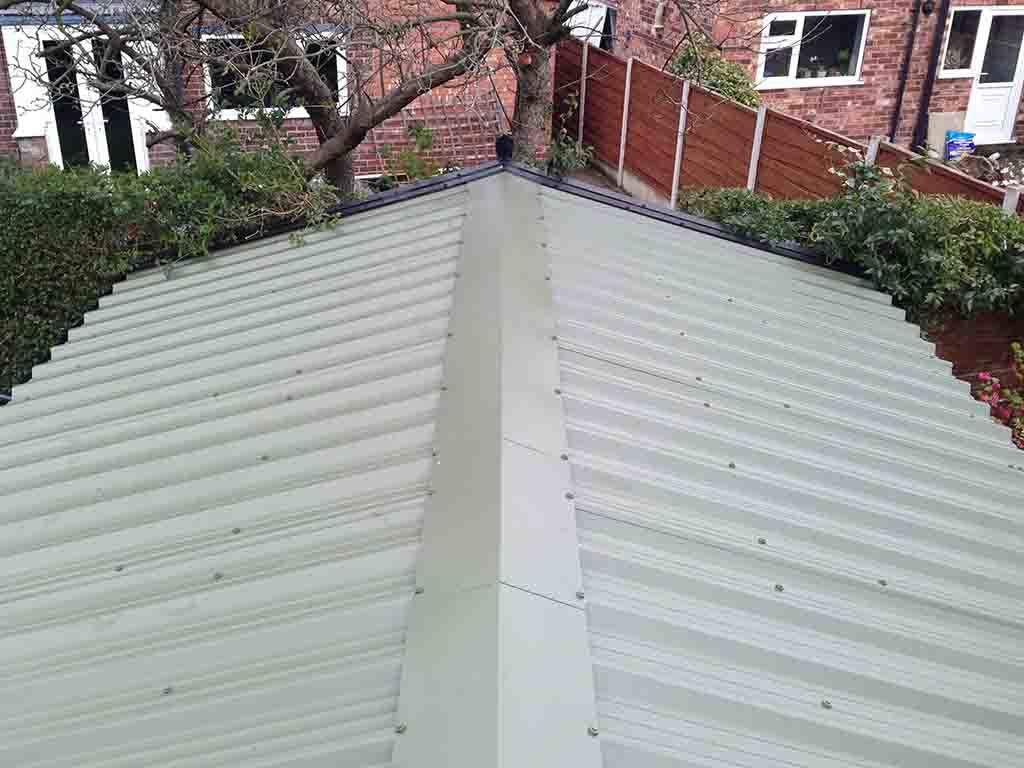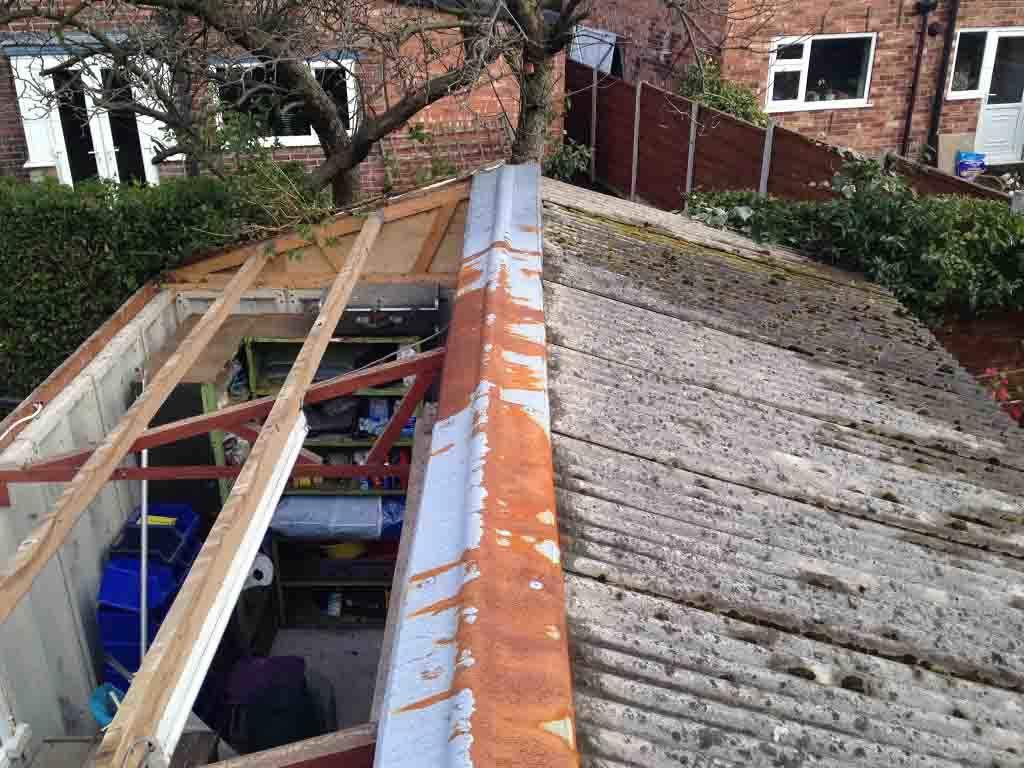 Benefits of a New Garage Roof
Thankfully construction materials have come a very long way in the last decade, lightweight profiled roofing systems are now the industry standard offering a substantial amount of benefits over other types of garage roofing products. Our garage roofing systems are designed for the UK Climate and are a direct replacement for old Asbestos and Cement Fibre garage roofs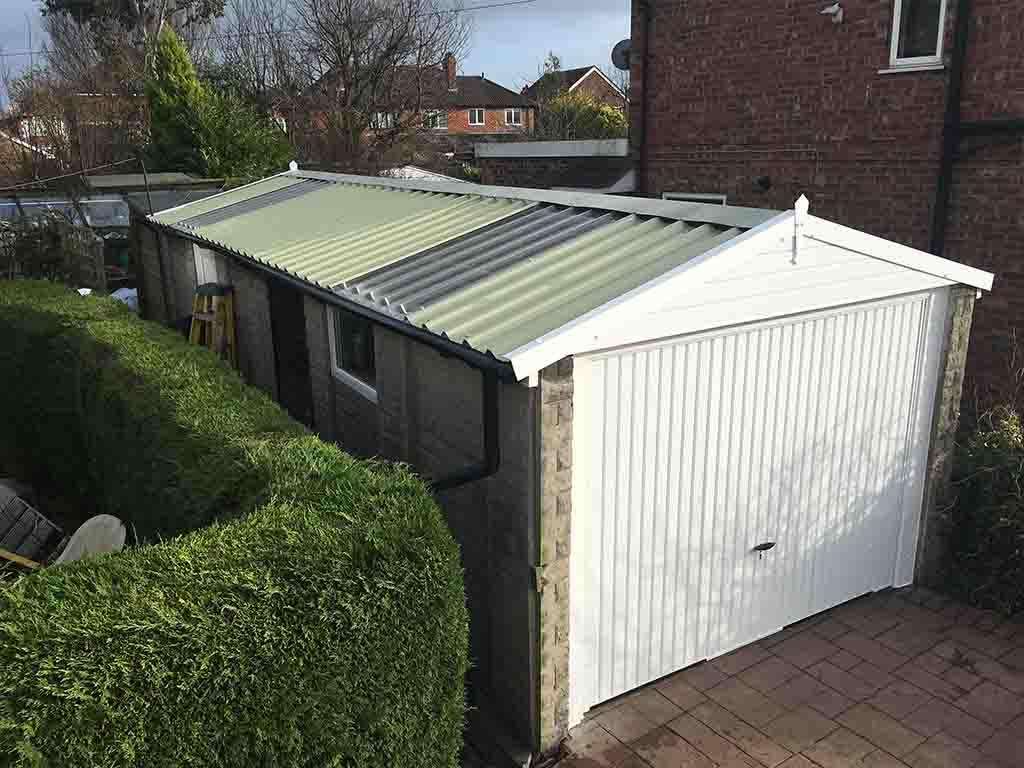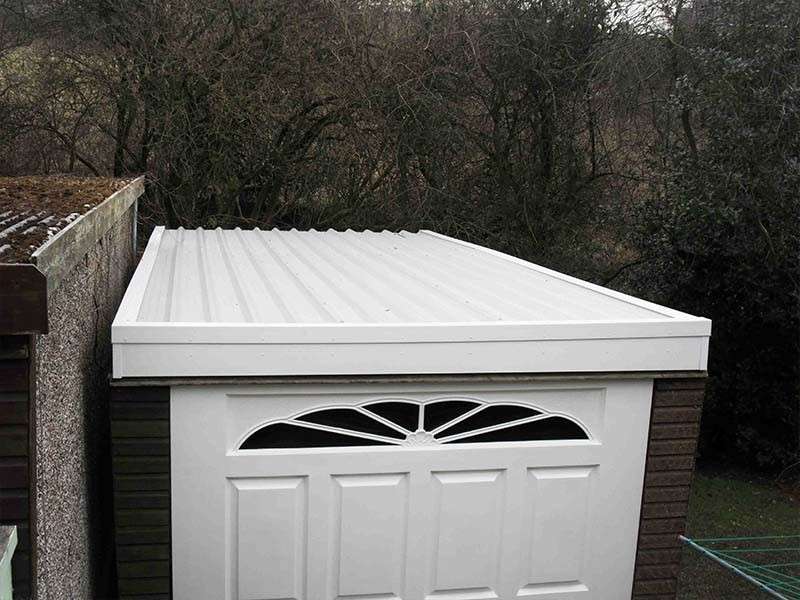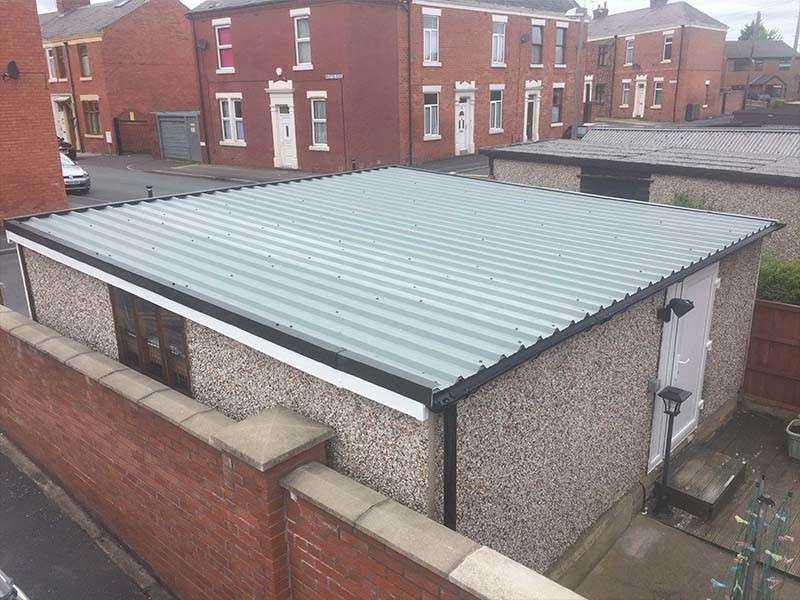 Completed in a Single Day
All of our garage roof replacement projects are started and finished within a single day!
No Need to Empty any Contents
Unless you actually use your garage to park your car, you won't need to empty any contents prior to installation.
We Work Around Your Schedule
Whether your booking an inspection or arranging your project date we will do our best to work around your timetable.
Hassle-Free Garage Roof Replacement
You can have just your garage roof replaced or a full refurbishment in just 3 simple steps.
Request a Quotation
You can obtain your free, no obligation quotation by giving us a call, sending us an email or filling out our online contact form.
Undertake an Inspection
Once you have received your quotation and your ready to proceed, make an appointment with one of our surveyors to inspect your project.
Book your Installation
All projects are booked over a one or two day period with a lead time of 2-4 weeks
Get in Touch
0800 1337318
info@danmarque.co.uk
Opening Times
9:00am – 5:30pm Monday to Friday