Stuck with an old garage roof which is leaking or damaged?
Join thousands of other customers and take advantage of our garage roof replacement services.
Hassle-Free Garage Roof Replacement
Don't let a leaking or faulty garage roof stop you from getting the most out of your home.
Danmarque Garages have over 10 years of experience replacing ALL types of garage roofs – including asbestos roofs – with a watertight, maintenance-free roofing system.
Get a free, no-hassle quotation to replace your garage roof today.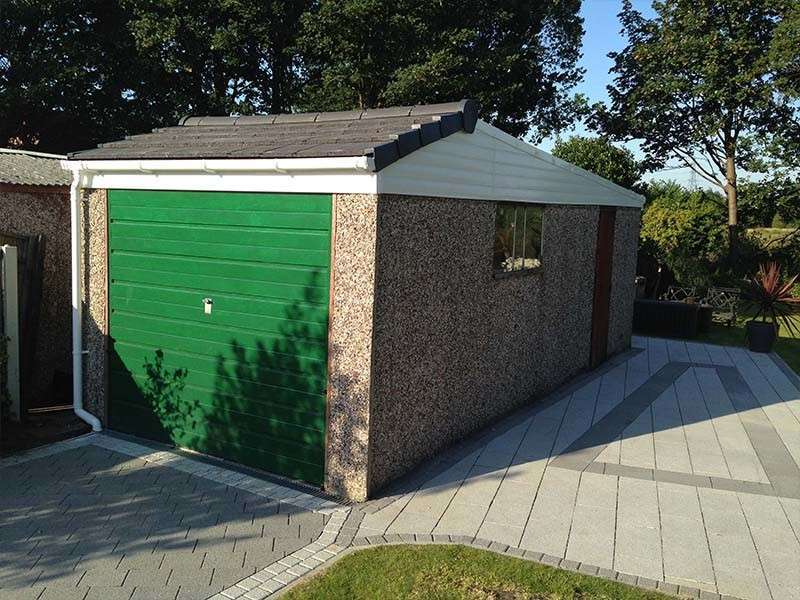 "Friendly, efficient service. The garage roof was fitted in a day and finish was to a high standard. Just what we needed."
We replace your garage roof with a watertight, maintenance-free roofing system.
Say goodbye to garage roof leaks and condensation – our roofs give you full protection from UK weather for 35 years of use.
Equipped with a DRIPSTOP anti-condensation membrane as standard.
Plus, fascia's & guttering are installed for FREE to drain rainwater from the roof and away from your garage.
All guaranteed with a 10 year warranty for total peace of mind.
DRIPSTOP Anti-Condensation
Fascia & Guttering Fitted for FREE
Industry Standard 0.7mm Profile
Replacing Your Old Garage Roof
Unlike garage roofs of the past, our modern garage roofing system
is based
on a high-grade, galvanised steel profile
.
These garage roofing panels replace
any
type of garage roof – including asbestos & cement fibre – regardless of shape or size
.
Our lightweight, box profile panels protect your garage from water ingress for up to 35 years. All made possible with a plastisol coating and a DRIPSTOP™ anti-condensation membrane.
In garage roofing, plastisol
is heated
, coated and then cooled to form a strong but flexible barrier
.

This provides the garage roofing panel with a layer of protection against the UK's changing weather conditions
.

It also ensures your garage roof is able to withstand physical damage for decades of use.
The DRIPSTOP anti-condensation membrane works to absorb excess moisture trapped inside your garage.

Pockets inside the felt hold onto this moisture and release it back into the air in the form of normal humidity.
This stops condensation from getting out of hand and dripping onto the floor or your belongings
.
Get a quote for your garage roof replacement in less than 24 hours: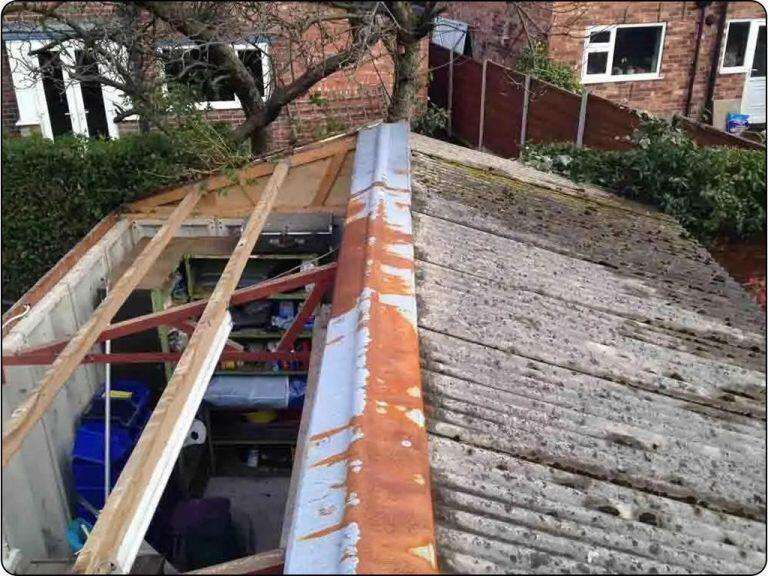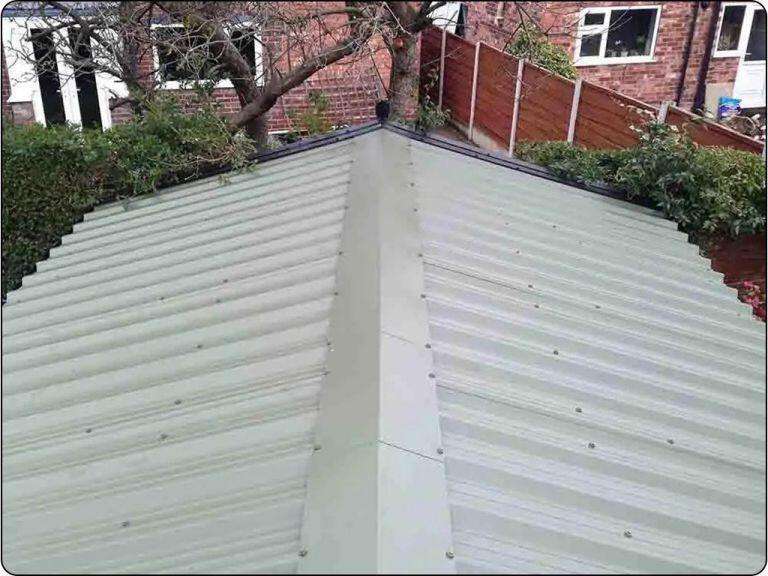 "Danmarque were a delight to deal with from start to finish. Super communication, super powered, super polite & my new garage roof looks asbolutely super!"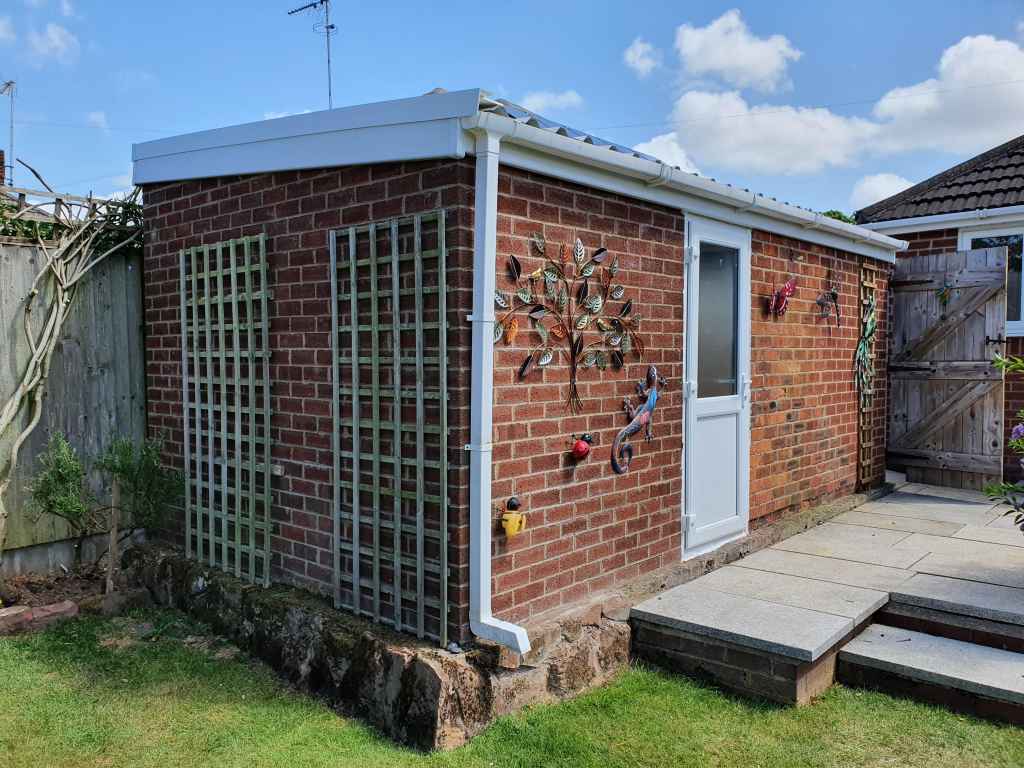 Mono Pitch Garage Roof Replacement with White uPVC Fascia & Guttering
For your new garage roof, you want a solution that guarantees long lasting protection against leaks & water ingress.
At Danmarque, we provide new fascia's & guttering as standard with ALL garage roof replacements and refurbishments.
Gutter systems ensure rainwater is efficiently drained from the roof, through the downpipe and away from your garage.
uPVC fascia's are available in white as standard or choose from a range of colours that suit you.
Colour options for uPVC Windows & Side Access Doors and Fascia's & Guttering include; White (Standard), Black Ash, Rosewood, Light Oak & Anthracite Grey.
Asbestos Garage Roof Replacement
The type of Asbestos used in domestic garage roofing is known as Chrysotile or more commonly, White Asbestos. Although White Asbestos is still classified as a hazardous material, due to very low Asbestos content it is considered to have a very low risk potential and although we always recommend due diligence when dealing with Asbestos if your roofing panels are undamaged and undisturbed the risk to your health is minimal.
Should your Asbestos garage roof have suffered any impact damage or deterioration then a little more caution is required, avoid unnecessary exposure and take care to minimise disturbance until you can have the garage roof replaced.
Non-Asbestos Garage Roof Replacement

Regardless of the type of garage roof you currently have, our maintenance free garage roofing systems give your garage a new lease of life.
Cement-Fibre Garage Roofing Panels

Felt Garage Roofs

Plastic Garage Roofing Panels

Tiled/Slate Garage Roofs

EPDM Rubber Garage Roofs

Onduline/Bitumen Garage Roofs

Metal Garage Roofing Panels

New Garage Roof Installations
Our straightforward approach and hassle-free quotation process means that you can replace your existing garage roof with just a few simple steps and total peace of mind.
Replace Your Roof with Tile Effect Panels:
A garage roof your neighbours can't help but envy.
Tile effect garage roofs provide the same protection as our standard panels and are available in a range of colours:
– Terracotta
– Vandyke Brown
– Olive Green
– Juniper Green
– Anthracite Grey
– Black

Ask about replacing your roof with tile effect panels today.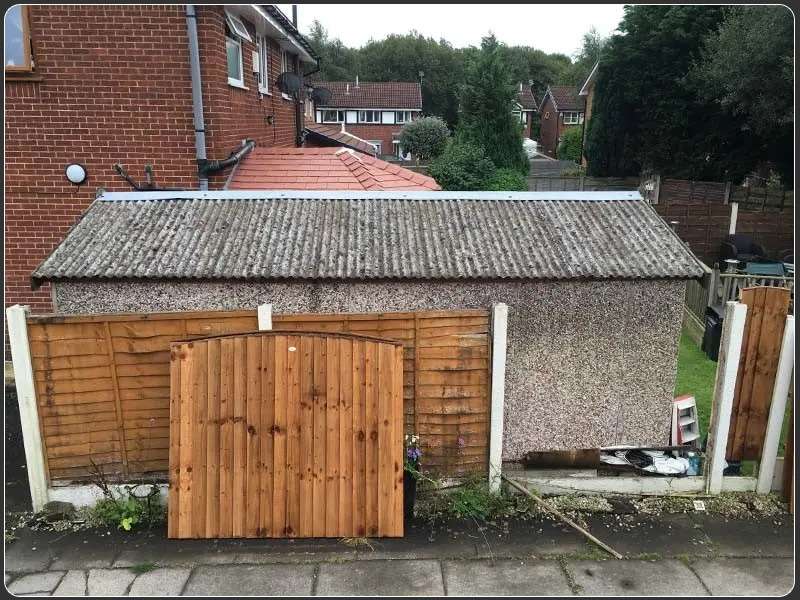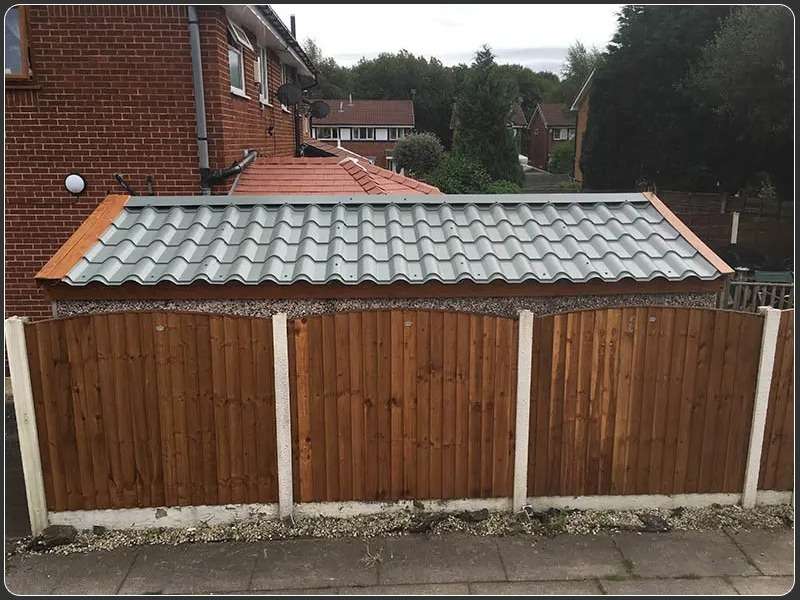 Hassle-Free Garage Roof Replacement
Have your garage roof replaced or a full refurbishment in just 3 simple steps.
Request a Quotation
Obtain your free, no obligation quotation by giving us a call, sending us an email or filling out our online contact form.
Undertake an Inspection
Once you have received your quotation and you're ready to proceed, make an appointment with one of our surveyors to inspect your project.
Book your Installation
All projects are booked over a one or two day period. Scheduled in on a date that works or you.
Opening Times:
9:00am – 5:30pm Monday to Friday