Everything You Need to Know About Garage Cladding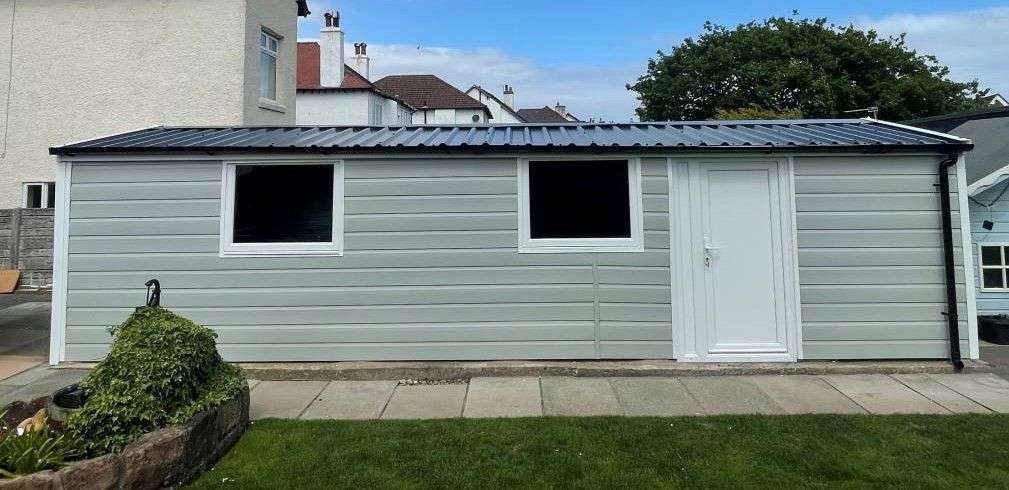 The rise of uPVC cladding options has enabled homeowners across the UK to transform both their home and their garage through low-cost, and easy-to-install, garage cladding ideas.
Garage cladding is the new way to add value and extend your usable space at a fraction of the cost of a garage replacement.
But many want to know – where can you install garage cladding? What does it look like? What materials are used?
And finally, how much does it cost?
In this guide, we cover all the possible garage cladding ideas and options, helping you to visualise your garage's full potential.
Here you'll find:
Where to clad your garage
Before & after images
The materials used to install garage cladding
What you can expect to pay
Garage Cladding Options: Where to Clad Your Garage and What it Looks Like
There are several options when it comes to cladding your garage:
Exterior Garage Wall Cladding
Garage Door Cladding
Garage Ceiling Cladding
Let's breakdown some before & after images for each type.
Exterior Garage Wall Cladding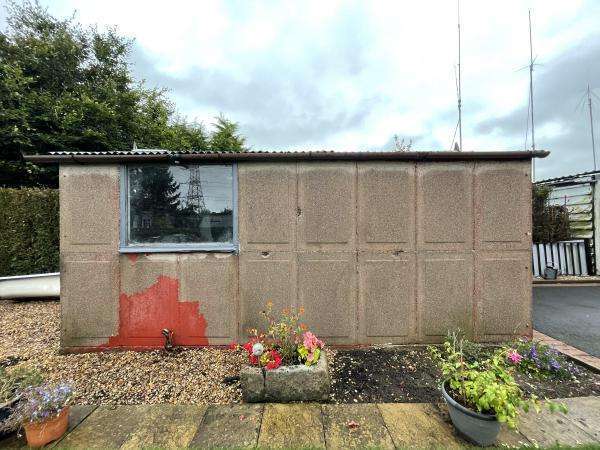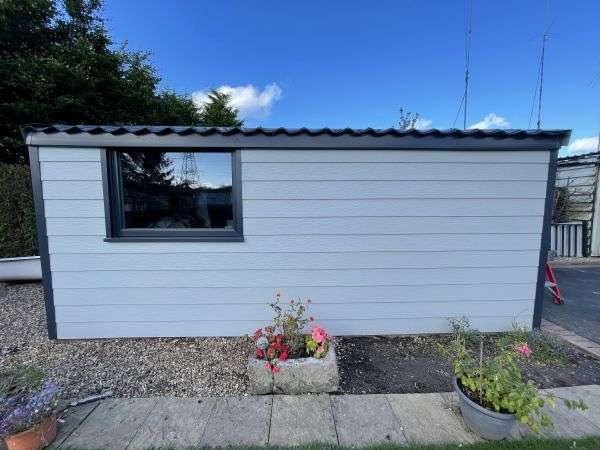 Installing exterior cladding panels to the garage walls brings new colour and a smooth, textured finish to the outside of the garage.
External wall cladding also allows you to cover up any old, decrepit sections of the garage, helping it to stand out from other concrete garages in the area.
All at a fraction of the cost of a garage replacement.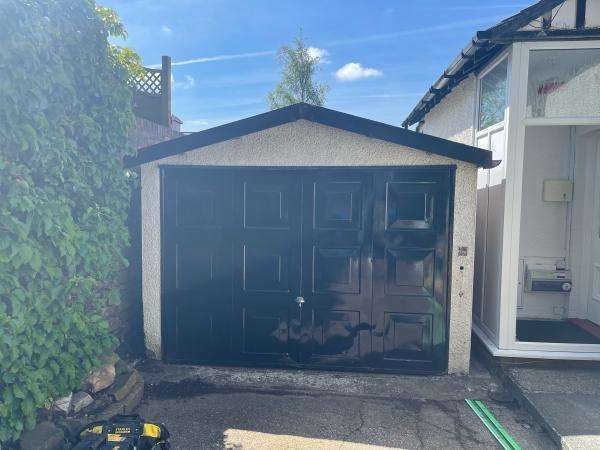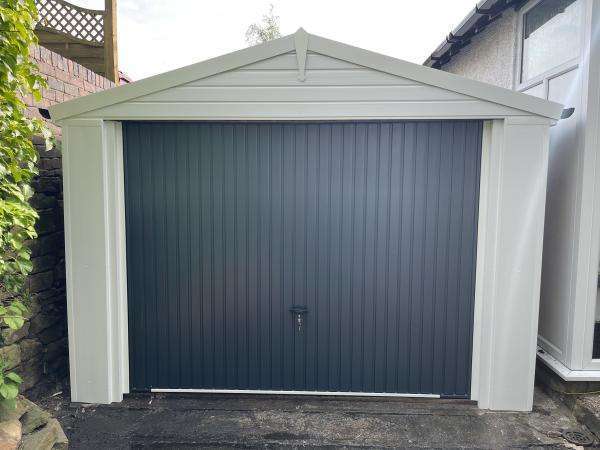 The front of the garage is the face of your home and often the first thing passers-by, neighbours, friends, or family can see from the street.
The garage door and its frame are a pivotal part of the garage and needs to look clean and well-kept.
Although, despite its affordability and low-maintenance requirements, not many know that garage door cladding is an option to them.
And that's most likely because there are not many installers in the UK. Only a select few companies offer garage door cladding.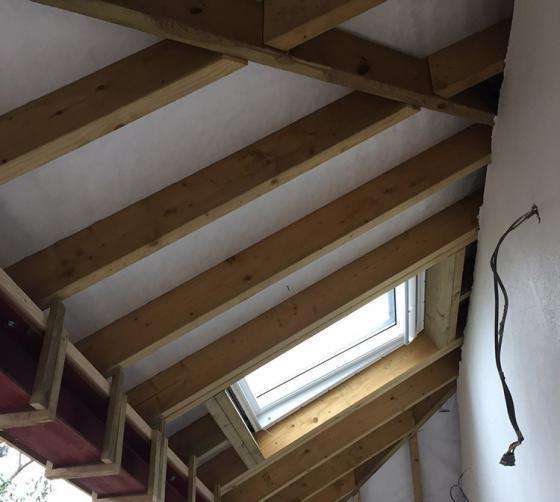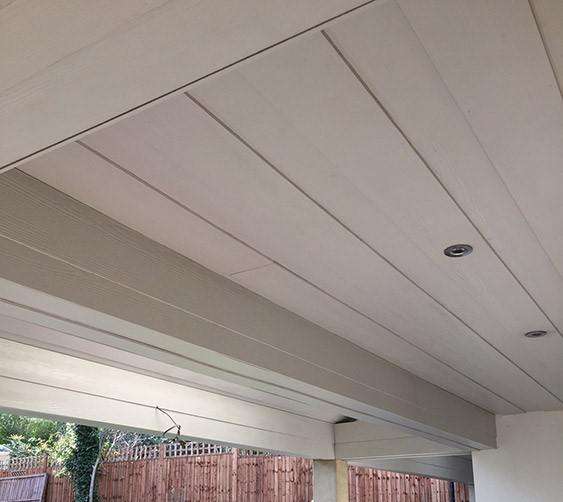 Garage ceiling cladding is yet another option to renovate the inside of your garage, covering up unsightly parts of the garage roof and shoring up any nooks & crannies.
Simple yet effective, white uPVC cladding on the garage ceiling helps to brighten things up by reflecting more light on the inside.
It may also help to get rid of those pesky bugs that hide in the dark corners of the garage too!
Get a Quote for uPVC Garage Cladding
Garage cladding is an affordable and hassle-free way of transforming your garage. Get a free, no-obligation quote to install it on your garage today at Danmarque.
Garage Cladding Materials
There are two materials that are most used to install garage cladding in the UK – uPVC and Timber. Both options are affordable, lasts for decades and require very little maintenance.
Read on to find out the differences between the two and which is the best option for your garage.
uPVC garage cladding, compared to timber cladding, has a lot of optionality.
Featuring an endless range of colours, uPVC is a long-lasting profile that can be used to transform your garage in a single day's work.
In addition to the number of colours to choose from, uPVC also comes in two different effects – Woodgrain and Textured.
Both Woodgrain and Textured finishes are highly durable. Meaning they won't split, rot or warp like timber is prone to. A simple wipe down is all you need to bring back that sparkling clean finish.
Benefits of uPVC Cladding:
10+ colours to compliment any home
Lasts for decades
Little maintenance needed to keep clean
Designed for the UK weather
Protects old concrete sections or brick garage walls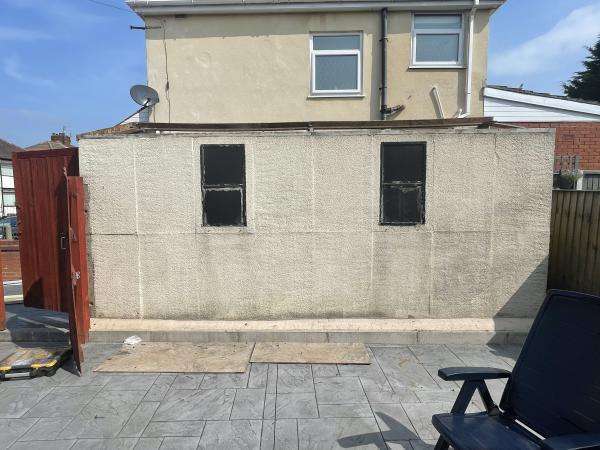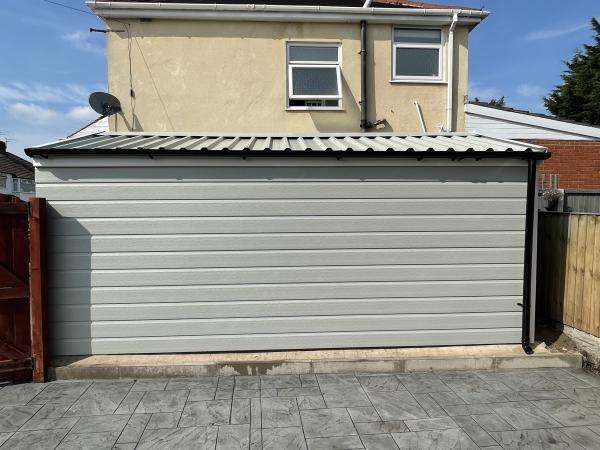 For a one-of-a-kind finish, look no further than timber garage cladding.
That's because the graining on each timber cladding panel can never be the same on another. If you have timber cladding, you know it'll always be unique.
That being said, there are a couple of things you need to know about timber cladding.
First, it is vital you maintain and keep the panels clean to prevent splitting, warping and rot. Second, wood naturally expands over the years when exposed to moisture content, so changes in size is expected.
Benefits of Timber Cladding:
Individualistic appearance
Easy to install
Kiln-dried for extra stability
Available in a number of colours and finishes
What is the Cheapest Cladding Option?
uPVC cladding is the cheapest option when it comes to cladding your garage. It is easier to manufacture, produce and install whilst offering a greater range of colours and effects to choose from.
How Much Does Garage Cladding Cost?
uPVC garage cladding typically costs somewhere between £600 – £1200 per wall. However, the length of the wall as well as the texture or colour can also affect the final cost.
At Danmarque Garages, we are currently offering 10% off all uPVC garage cladding products. Get a quote to install garage cladding on your garage today.
Opening Times:
9:00am – 5:30pm Monday to Friday